When the English national team were winning the hearts of a nation at the 2018 Russian World Cup, there was one player who polarized the fan base. That player was Raheem Sterling. Many felt that he was careless in possession, missed far too many chances and made no impact upon the games in which he played.

Prior to the tournament, many saw Sterling as a key member of England's squad as he was entering the tournament after having his best season in his career. However, his performances at the World Cup did not reflect the form he experienced during the domestic season.

Sterling has silenced all of his critics
The young winger has been in exceptional form for club and country this season. Raheem Sterling came through the academy systems within the United Kingdom and was already a well-known player before he made his debut for Liverpool. He entered the league as an attacking force as his blistering pace made him a nightmare for Premier League defenders.

Sterling's talent has long been admired within England but, since moving to Manchester City, he has taken his game to a whole new level. In all competitions, he has been nothing short of incredible. Because he's played first-team soccer since the age of 17, one forgets that he is still a young man. He is only 24 and is yet to enter his prime as a player. He has performed at such a high level this season and is certainly a candidate for the Player of the Year Award.
Sterling's career has gone from strength to strength and there are a variety of reasons behind this. One of the reasons is that he has matured as an individual. Previously, Sterling made the headlines for all the wrong reasons. Sure, Sterling has always been a decent performer, but when he was younger he was making the news for his off-field antics instead of his displays for Liverpool. This is no longer the case. Stories of a young Raheem Sterling partying after losses have been replaced by ones which highlight Sterling's charitable work. Sterling is now a role model and an example of the consummate professional.

This maturation has also taken place on the pitch for Raheem. When he was younger, Sterling played as if his feet were running too fast for his mind. He looked rushed on the ball and made the wrong decisions at the most crucial of times. However, as he has matured he has developed a clinical nature to his finishing and now makes the correct decision when presented with a variety of options.
Sterling's upward trajectory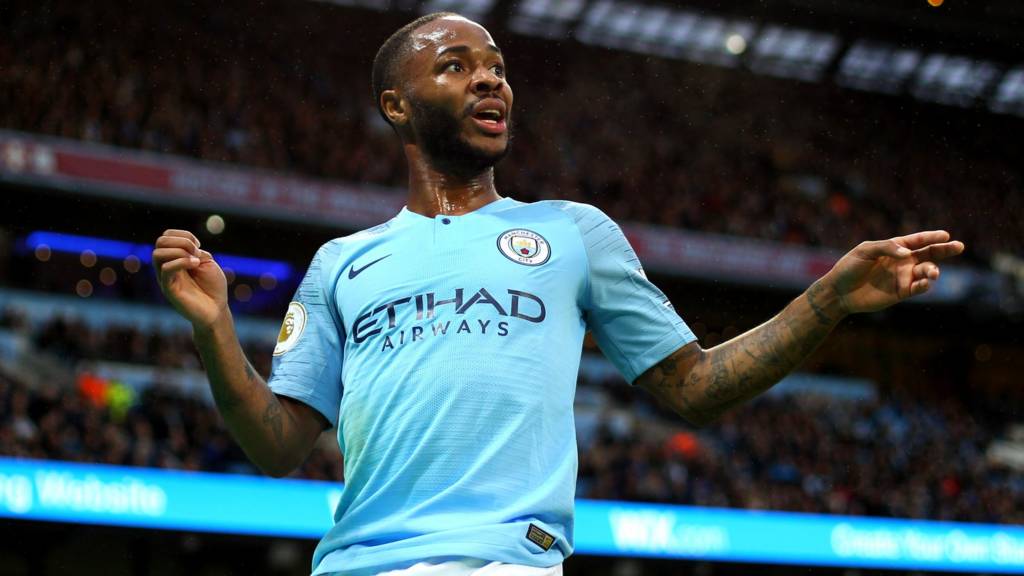 His productivity shows how his career is on an upward trajectory. The following goals and assists statistics show this to be true.
2015/2016- 47 Games 11 Goals and 10 Assists
2016/2017- 46 Games 9 Goals and 19 Assists
2017/2018- 46 Games 23 Goals and 17 Assists
This season, Sterling has scored 25 goals and has 12 assists to his name. With so much soccer yet to be played, Sterling has enough time to reach 30 goals and 20 assists. Truly remarkable numbers. His attacking numbers have been excellent this season as he currently averages 2.1 shots per game and 2.5 dribbles per game; which highlight how much of a handful he's become.

The thing that has been most impressive about Sterling's improvement is that it has occurred across his whole game. His distribution of the ball has gone to another level as he averages 2 key passes per game and has a pass completion rate of 86.1%. This is a remarkable return for a player that was chastised in the summer for being wasteful in possession. His defensive output has also improved this season as his defensive numbers resemble that of a full-back of a mid-table team. Which is crazy given that he is an attacker. He averages 0.9 tackles per game and 0.6 interceptions per games; which further illustrates his all-around improvement.
Of course, Sterling deserves the lion share of praise for this development as a player. It was him who decided to mature as an individual and focus purely on becoming the best player he can be. However, one must also give Guardiola credit for challenging Sterling to improve. Sterling has become one of the first names on the team sheet for both club and country. He has silenced those critics who were so vocal last summer and he continues to his upward trajectory towards becoming a world-class player.
COMMENTS
Any suggestions, questions or comments then do not hesitate to get in touch! Remember, if you have any requests for future articles then you all you have to do is ask! Whether it's about a manager's tactical philosophy or an in-depth analysis about a specific player, if it is soccer related; I will look into it!