Unai Emery has exceeded all expectations at Arsenal this season. Nobody, except for maybe Arsenal fans, predicted that the North London club would be challenging for a top-four position. Arsenal could even finish above Spurs, in third place, which would be an unbelievable achievement for the Gunners.
Though Arsenal has been fantastic this season, there are still a variety of areas in which they can improve. If Emery were to bring in a right-winger, centre-back and right-back; then Arsenal could be potential title challengers next season.


right-wing
Arsenal has two elite strikers in Aubameyang and Lacazaette. Aubameyang has scored 17 goals in the league, which is one behind top scorer Aguero, and Lacazette stands in 8th place with 12. Arsenal has 2 thirds of their attacking line complete and signing an elite right-winger can make Arsenal into one of the most feared teams in Europe.

Latest reports indicate that Arsenal will be signing a right-winger during this summer's transfer window and an elite right-winger will bring balance to Arsenal's attack. Players such as Ismaila Sarr of Rennes and Wilfried Zaha of Crystal Palace have been linked with big money moves to Arsenal. However, if Arsenal are going to be spending substantial money on a right-winger then they should sign Nicolas Pépé.

Nicolas Pépé: right-wing (Lille OSC)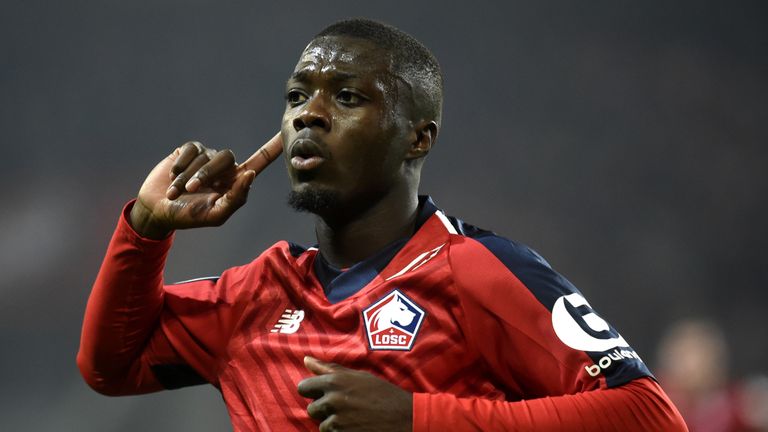 If I were Arsenal, I would break the bank to sign Nicolas Pépé as he has all the attributes needed to play within Emery's system. Granted it'll take a massive bid, in excess of $100 million dollars, to sign the winger from Lille but he has the potential of being a future Ballon d'Or winner.
Pépé's offensive output has been insane this season as he averages 3.2 shots per game, 1.9 key passes per game and 2.7 completed offensive dribbles per game. His end product has also been fantastic this season as he has scored 18 goals and he has 9 assists to his name. Pépé has emerged as one of the most exciting youngsters within soccer and it is no surprise that he is being courted by Europe's biggest clubs.
Just imagine a front-three of Aubameyang, Lacazette and Pépé'. Do you know how scary that sounds? Are all three elite finishers? Yes. Are all three electrifyingly fast? Yes. Would singing Pépé' mean that Arsenal would have one of the most devastating forward lines in all of soccer? Yes!

defense
Wenger's biggest criticism during his time at Arsenal was that he never solidified his defense. When he first joined the club, he inherited George Graham's team which had defensive icons, such as Tony Adams, already at the club. As time went by, Wenger never addressed the defensive issues that the team had. Wenger's tenure at Arsenal is littered with terrible defensive performances because the Frenchman never signed another world-class defender. For years, Arsenal's defense has been mediocre and the club needs to make multiple defensive signings this summer.
Arsenal needs to sign a world-class centre back that can partner Sokratis. The Greek defender has won fans over with his passionate displays this season, but Arsenal has to find the right man to play alongside him. Laurent Koscielny is approaching the twilight of his career and Arsenal need to sign a suitable replacement for the Frenchman.

Marc Bartra: Centre-back (Real Betis)
If I were Arsenal I would sign Marc Bartra from Real Betis. Arsenal's recruitment policy prevents them from spending the type of money which would be needed to sign a top-tier centre-back. Arsenal simply cannot afford to spend $70 million dollars on a defender, so they need to find value in the transfer market. This is why they should sign Marc Bartra.

Though Bartra is not a household name, the Spanish international is one of the top 20 centre-backs in Europe and he can be signed for a reasonable fee. The Spaniard has all the technical abilities needed to be able to play in Emery's system and his game would dovetail nicely with Sokratis'.

Arsenal needs a ball playing centre-back who has exceptional positional intelligence and Bartra has proven this season that he can appease these requirements. Bartra's defensive output has been great this season as he averages 2.7 tackles a game, 1.8 interceptions per game, 0.7 blocks per game, 1 dribble per game and 4.2 clearances per game. These averages place Bartra as one of the most productive defenders in Europe.

Bartra is the calibre of defender that Arsenal needs in order to create a strong and stable defense. In the Premier League, the most successful sides usually have contrasting centre-backs as their two defenders. In Sokratis, Arsenal has a warrior who is willing to put his body on the line for the team. Therefore, Arsenal needs a ball-playing centre-back to partner him.

Bartra is perfect for this role as he has is accustomed to playing as a ball-playing centre-back. Bartra has a pass completion rate of 88.8% and has all the technical abilities needed to play as a ball-playing centre-back. Arsenal needs a calming influence in their defense and Bartra can supply this. He is the defender that Arsenal should sign this summer.

Right-back
The next defensive signing that Arsenal should make is providing cover for Héctor Bellerin at right-back. Bellerin ruptured his anterior cruciate ligament and will be out for a significant period next season. Currently, Arsenal plays a combination of Lichtsteiner and Maitland-Niles at right-back which has proven to be extremely inconsistent. Lichsteiner is out of contract at the end of the season and Maitland-Niles is more suited to a position in the centre of the midfield. Therefore, Arsenal must sign a right-back to provide cover for Bellerin.
Max Aarons: Right-back (Norwich City)
A name that Arsenal is continually linked to is Max Aarons of Norwich City and the young right-back has had a breakthrough season this year. Aarons is young enough to be utilized as a squad player for a couple of seasons as he is only 19 years old. The right-back has been playing for Norwich City in the Championship and he has excelled this year. After winning the 2018/2019 EFL Young Player of the Year Award many pundits have tipped Aarons to join one of England's elite clubs in the summer.

Aarons plays like the modern full-back as he is effective on both ends of the pitch. Offensively, Aarons averages 0.5 shots per game, 0.7 key passes per game, 1.4 offensive dribbles per game and even has 6 assists to his name.
Equally, Aarons has shown real maturity in his defensive work this season as he averages 1.7 tackles per game, 1.2 interceptions per game and 1.7 clearances per game. Aarons still has so much to learn when it comes to playing as a right-back but his talent is clear for all to see. Arsenal needs to sign a right-back who can provide cover for Bellerin whilst also pushing the Spaniard to perform consistently. Signing Aarons would achieve both of these objectives.
The North London club are only a few signings away from challenging for the Premier League title and it will be interesting to see how Arsenal address the current deficiencies within their squad.
COMMENTS
Any suggestions, questions or comments then do not hesitate to get in touch! Remember, if you have any requests for future articles then you all you have to do is ask! Whether it's about a manager's tactical philosophy or an in-depth analysis about a specific player, if it is soccer related; I will look into it!