Manchester United's revival under Solskjær has been incredible. However, many of the issues that he inherited from Mourinho remains. If United are serious in their attempts to reach the summit of soccer once more, then there are a variety of signings that they need to make to improve their squad. The most significant is within the defense and the midfield.
Centre-Back
Manchester United's defense has improved tremendously under Solskjær guidance. Players that had regressed under Mourinho have now emerged as key figures under the new regime.
However, against the top teams within the Premier Leauge, Manchester United have still relied on their goalkeeper, David de Gea, to have unbelievable performances to keep them in the game. Though Smalling and Lindelof have formed a good partnership, United need to buy a world class centre-back to challenge for the highest honors. Lindelof is a potential future captain for United and, since Solksjaer has taken over, has cemented himself as United's first choice centre-back. Smalling and Jones are good reserves to have but, as Liverpool have shown with van Dijk, introducing a world class centre-back into the club can drastically change the fortunes of the team.
There are several players that Manchester United can pursue. However, most elite centre-backs are already at Europe's biggest clubs.
Kalidou Koulibaly: NapOli (27)
If I were Manchester United my primary defensive target would be Koulibaily as he is exactly what Manchester United need. The club need to sign a defender that can immediately make a difference and Koulibaily fits the bill. He is an aggressive defender that can dove-tail well with Lindelof's ball playing abilities. The Senegalese international averages 1.8 tackles per game, 1.3 interceptions per game, 1 block per game and a staggering 3.8 clearances per game. Koulibaily is a defensive force and he would help transform Manchester United's defense into one of the best in the league.
Manchester United must sign a defender who complements Lindelof's game. Lindelof needs a no-nonsense warrior next to him. In the biggest games, Lindelof has the tendency to be nervous on the ball and is prone to making mistakes. Having that calming influence next to him would do him, and United, the world of good. Liverpool has shown how the fortunes of a club can change with the addition of a world-class defender and United should follow their example.

Central-Defensive-Midfielder
Aside from the centre-back there are two other positions in which United need to strengthen; the centre of the midfield and the right-hand side of the attack. In an ideal world, United would sign two centre midfielders that can slot into the first team straight away.
Given that United will be operating on some sort of a budget, the most pressing signing they need to make is buying someone to replace Matic. Nemanja Matic is approaching the twilight of his career and his replacement is vital to the progression of the football club. Matic is the consummate professional and should be kept at the club to remain as a leader in the dressing room.
If Solksjaer gets the job then United's style of play is clear. It resembles that of Sir Alex Ferguson's; defend well and counter-attack at blistering pace. Therefore, the central-defensive-midfielder is a vital cog in this system. The midfielder protects the defence and initiates the counter-attack.
United have never replaced Michael Carrick and the hierarchy at the club need to break the bank to bring in some real quality into this position. If United want to play attacking football, at a blistering pace, they need a central-defensive-midfielder who's first thought is to pass the ball forward; as opposed to sideways which is a criticism often levelled at Matic.
Manchester United possess forward players with frightening pace. Players like Martial and Rashford provide a downfield threat that can be extremely potent. Therefore, the central-defensive-midfielder needs to have an exceptional passing range to be able to take advantage of this threat.
On the defensive side, the central-defensive-midfielder needs to be a fixed central-defensive-midfielder; as opposed to a screening central-defensive-midfielder like Kante. The way Pogba and Herrera plays means that United needs somebody with extreme discipline that can sit in front of the back four.
United should look to the Premiere League for their central-defensive-midfielder.
Ruben Neves: WOlves (22)
If I were Manchester United I would try to sign Neves. I have outlined the type of central-defensive-midfielder that Manchester United must sign and Neves has all abilities that have been highlighted above. He is a young player that has world-class talent and can become Manchester United's central-defensive-midfielder for the next 10 years.
Manchester United need a central-defensive-midfielder who is exceptional on the ball and has a high defensive output. Neves appeases these demands. The midfielder is a fantastic passer of the ball as he averages 0.8 key passes per game, 6.1 long balls per game and has a pass completion rate of 80.9%. Also, Neves' defensive averages read more like a defender's rather than a midfielder's. He averages 2.1 tackles per game, 2.3 interceptions per game 1.5 defensive dribbles per game and 1.3 clearances per game. The Portuguese international has proven that he is one of the best midfielders in the Premier League and he would make a major difference to Manchester United's starting eleven.
Right Wing
Manchester United have no attacking threat down the right-hand side. When Mata plays he just cuts back into the middle of the park and Lingard is far more effective in a central position. Rashford has shown this season that he should be the starting striker moving forward. Therefore, United need to sign a right-sided winger that will hug the touchline and stretch the opposition's back four.
Jadon Sancho: borussia dortmund (19)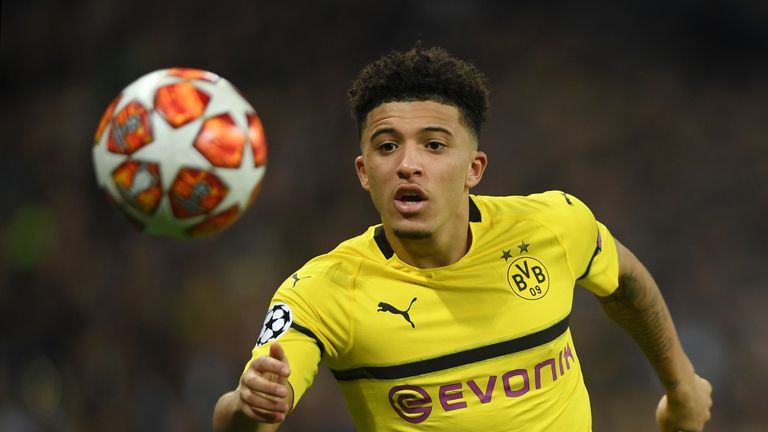 The Englishman has emerged as one of Europe's brightest prospects. Before his move to Germany, most people in the United Kingdom had heard of Sancho's talents and were aware that Manchester City had a potential superstar in their ranks. So, you can imagine the headlines when Sancho left Manchester City to play in the Bundesliga for Borussia Dortmund.
This season Sancho has shown that he is one of the best teenagers in all of soccer and he would make a huge difference to Manchester United's attack. Sancho's playing style would fit the way Manchester United aim to play. He is pacey, which compliments the playing styles of Martial and Rashford, and is exceptional on the ball. These are two key attributes that are needed of any attacker who plays within a counter-attacking system and Sancho would be the perfect addition to Solskjær's side.
His offensive numbers have been ridiculous this season as he averages 1 shot per game, 1.8 key passes per game and 2.7 offensive dribbles per game. Also, Sancho has scored 9 goals and has 14 assists to his name. Sancho's overall attacking output puts him as one of the most productive teenagers in all of soccer. If Manchester United were to sign Sancho then they would have one of the most frightening attacks in all of soccer.
So, there you have it, these are the signings that I would make if I were Manchester United. The club already has some good pieces and with the right additions they can mount a significant title challenge next season.
COMMENTS
Any suggestions, questions or comments then do not hesitate to get in touch! Remember, if you have any requests for future articles then you all you have to do is ask! Whether it's about a manager's tactical philosophy or an in-depth analysis about a specific player, if it is soccer related; I will look into it!